Memphis Carpet Repair strictly follows the standards established by The Clean Trust organization; previously the Institute of Inspection, Cleaning and Restoration. Click here to view their site. To qualify for The Clean Trust certified firm status businesses must demonstrate proof of insurance, maintain a written customer complaint policy with documented follow-up and provide ongoing education and training leading to certification for all technicians. Memphis Carpet Repair maintains an impeccable track record because we provide an honest and professional service to our clients. Here are some questions that we are commonly asked.
1. "Is it necessary to move the furniture?" – If you need your carpet stretched then it is absolutely necessary to have all the furniture removed from the carpet. In order to provide you with the best repair work possible we wouldn't dream of attempting to re-stretch your carpet with the furniture still in place. We would also caution against using a contractor that tells you differently.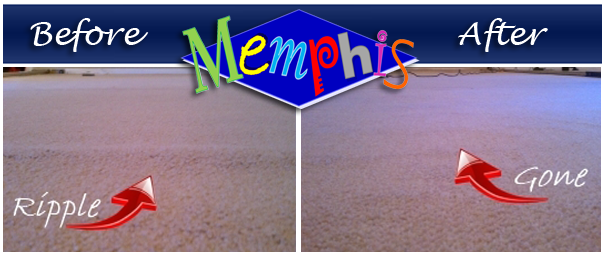 2. "How are bald spots repaired?" – Usually the original or previous carpet installer had left over carpet after the installation. These extra pieces are typically kept in the garage or attic. When Memphis Carpet Repair is called to repair a bald spot we will want to use these remnant sections because they are an exact match to what is already installed. We will remove the damaged area and replace it with a permanent piece to leave you with a seamless repair. If you can't find any remnant sections don't worry; our qualified and experienced technicians can find a solution for you. Please call us anytime for a no cost phone quote.
3. "Can't I just purchase a new section from a local retailer?" – It is near impossible to exactly match your current carpet with a piece from a retailer like Home Depot because the dye concentrations change from lot to lot. By looking at the color swatch below it is clear that the colors are different. This is not the case with carpet. In fact the difference will be more than obvious once it has been installed. Don't risk wasting your hard earned money. Allow us to use our experience to find a solution for your carpet needs.

.